Breathe Hot Yoga
Hot Pilates Master Classes - Sept 5,6,7!
Don't miss the chance to experience Hot Pilates, the fitness sensation that is taking the Las Vegas fitness community by storm!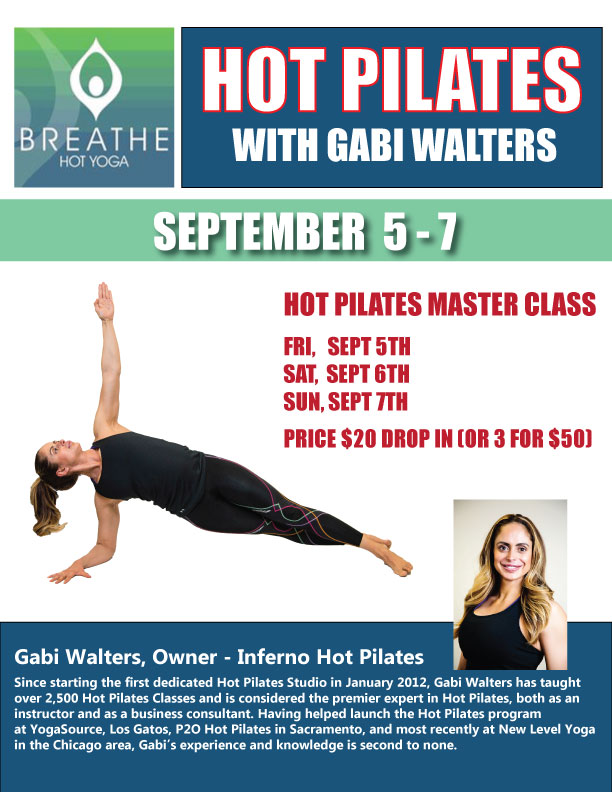 Welcome to BREATHE
The first step in yoga is to BREATHE.
From the forest ashrams of ancient India to our three locations in the Emerald City, the healing power of yoga survives and thrives. We follow in the footsteps of barefoot giants—excited to offer our students proven methods and techniques for improving health, strength, flexibility and peace of mind.
We love yoga. We love the health benefits we enjoy from practicing yoga. Our mission is to give you the opportunity to experience the power of a regular yoga practice. Our passion is to inspire you to build lasting health and vitality from the inside out, one yoga class at a time.
Yoga classes at Breathe are specifically designed to build strength, balance and flexilibilty. With practice, you will cultivate mental and physical awareness, leading to optimal happiness in your daily life. We invite you to grow your practice with us, let your stresses melt away onto the floor, and share your "yoga glow" with everyone around you.
My vision is a yoga studio where I can practice and be challenged for a lifetime.
- Amber, founder